Young Adult
Middle Grade
---
The CROWN OF FEATHERS Trilogy
Featured in:
---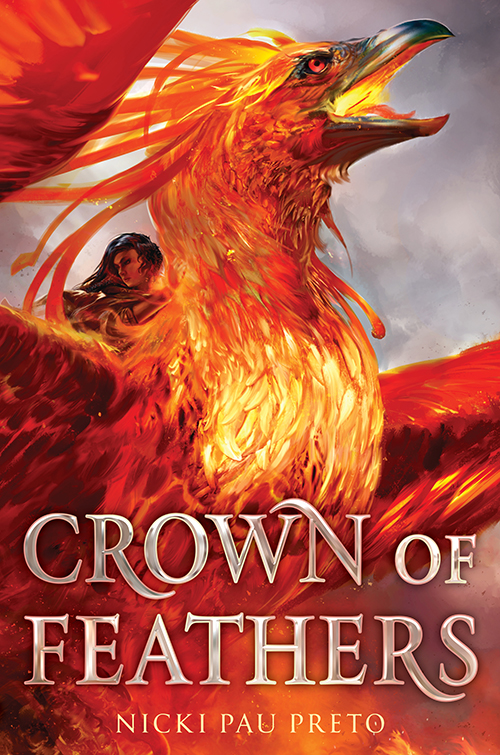 YA Fantasy | Book 1 in the Crown of Feathers trilogy
AN EMBER IN THE ASHES meets THREE DARK CROWNS in this lush debut fantasy novel about a girl who disguises herself as a boy to join a secret group of warriors that ride phoenixes into battle.
• A Forbes Best Young Adult Fantasy Novel of 2019
• A MYRCA Honour Book
• A White Pine Award Honour Book
Adapted into a FREE digital web comic by WEBTOON!
---
I am a daughter of death
From the ashes I rose
Like a phoenix from the pyre
I had a sister, once…
In a world ruled by fierce warrior queens, a grand empire was built upon the backs of Phoenix Riders—legendary warriors who soared through the sky on wings of fire—until a war between two sisters ripped it all apart.
I promised her the throne would not come between us.
Sixteen years later, Veronyka is a war orphan who dreams of becoming a Phoenix Rider like the heroes of old. After a shocking betrayal from her controlling sister, Veronyka strikes out alone to find the Riders—even if that means disguising herself as a boy to join their ranks.
But it is a fact of life that one must kill or be killed. Rule or be ruled.
Just as Veronyka finally feels like she belongs, her sister turns up and reveals a tangled web of lies between them that will change everything. And meanwhile, the new empire has learned of the Riders' return and intends to destroy them once and for all.
Sometimes the title of queen is given. Sometimes it must be taken.
Crown of Feathers is an epic fantasy about love's incredible power to save—or to destroy. Interspersed throughout is the story of Avalkyra Ashfire, the last Rider queen, who would rather see her empire burn than fall into her sister's hands.
---
Praise for CROWN OF FEATHERS
"Debut author Pau Preto's series opener steadily gathers steam before closing with a pulse-pounding crescendo." – Publisher's Weekly
"The well-paced plot is chock-full of shocking revelations, betrayals, and moments of empowerment in the face of adversity that give this novel an epic scope and set up the beginning of a promising book series." – BCCB
"Crown of Feathers is epic in the truest sense; it draws on Game of Thrones-worthy military history and political machinations, weaving letters and historical documents into the narrative… it's the perfect series kickoff." – Quill & Quire
"An action-packed adventure that will leave fans of epic fantasies eager to find out more. The ending is the perfect setup for a sequel." – School Library Journal
"This is a new twist on fantasy favorites, and Pau Preto's first novel is as ambitious as it is lyrical." – Booklist
"A beautifully told story about justice, sisterhood, and warrior women. This richly woven world had me turning pages well into the night. Nicki Pau Preto is one to watch!" – Shea Ernshaw, New York Times bestselling author of THE WICKED DEEP
"Set in a world of warrior queens and their fierce phoenixes, Nicki Pau Preto's CROWN OF FEATHERS is absolutely unforgettable. It draws you in with the first flaming feather, and doesn't let go. Fans of magical creatures, get in line, because I haven't loved a phoenix this much since Dumbledore's Fawkes. This is an instant favorite." – Kendare Blake, #1 New York Times bestselling author of the Three Dark Crowns series
"A fierce and incendiary tale of warrior women, sisterhood, and the choices that define us, all set in a soaring new world that readers will fall in love with. I couldn't put it down." – Lisa Maxwell, New York Times bestselling author of the Last Magician series
"For readers who crave vivid world building and nuanced characters, CROWN OF FEATHERS is a feast of magic, action, and romance! An immersive, deeply satisfying fantasy that will stay with you long after the story is finished." – Elly Blake, New York Times Bestselling author of the Frostblood Saga
"The unique and imaginative world of the Phoenix Riders had my rapt attention from the first sentence. Nicki Pau Preto is a bright new talent, and I can't wait to read more!" – Morgan Rhodes, New York Times Bestselling author of the Falling Kingdoms series
---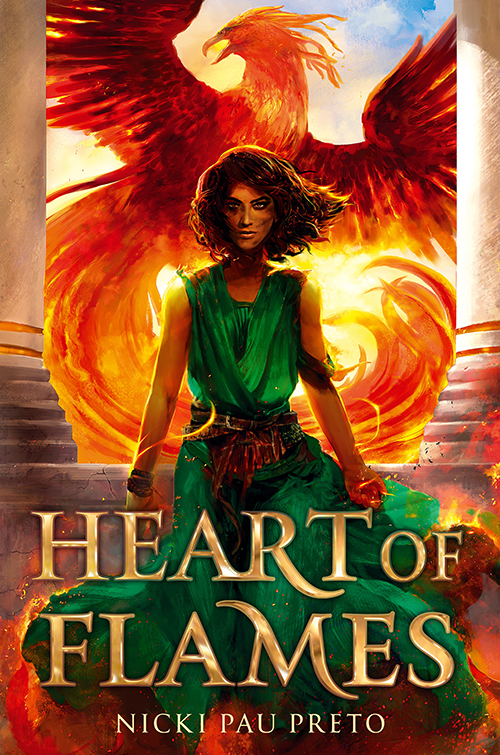 YA Fantasy | Book 2 in the Crown of Feathers trilogy
Veronyka, Tristan, and Sev must stop the advancing empire from destroying the Phoenix Riders in this fiery sequel to CROWN OF FEATHERS, which #1 New York Times bestselling author Kendare Blake calls "absolutely unforgettable!"
• A Publisher's Weekly Noteworthy Novel Sequel

---
You are a daughter of queens.
The world is balanced on the edge of a knife, and war is almost certain between the empire and the Phoenix Riders.
Like Nefyra before you, your life will be a trial by fire.
Veronyka finally got her wish to join the Riders, but while she's supposed to be in training, all she really wants to do is fly out to defend the villages of Pyra from the advancing empire. Tristan has been promoted to Master Rider, but he has very different ideas about the best way to protect their people than his father, the commander. Sev has been sent to spy on the empire, but maintaining his cover may force him to fight on the wrong side of the war. And Veronyka's sister, Val, is determined to regain the empire she lost—even if it means inciting the war herself.
Such is your inheritance. A name. A legacy. An empire in ruin.
As tensions reach a boiling point, the characters all find themselves drawn together into a fight that will shape the course of the empire—and determine the future of the Phoenix Riders. Each must decide how far they're willing to go—and what they're willing to lose in the process.
I pray you are able to pass through the flames.
---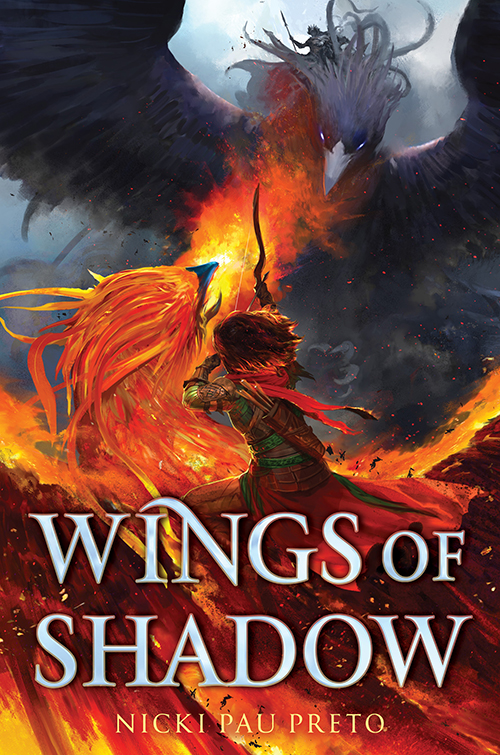 YA Fantasy | Book 3 in the Crown of Feathers trilogy
In the heart-stopping finale to the CROWN OF FEATHERS trilogy, which #1 New York Times bestselling author Kendare Blake calls "absolutely unforgettable," Veronyka must face her most devastating enemy yet: her own sister.
• A Publisher's Weekly Noteworthy Series Ending
• A CBC Books Canadian YA Book to Watch For

---
I had a sister, once…
Veronyka is no longer an orphaned stable boy or a nameless Phoenix Rider apprentice: she is the daughter of Pheronia Ashfire, the last queen of the Golden Empire…and the niece of Avalkyra Ashfire, the resurrected rebel queen who tore the empire apart.
We shone brightly, burned fiercely.
Now that the secret is out, everyone at the Eyrie treats Veronyka differently, and with Tristan still a hostage of the scheming Lord Rolan—and Sev with him as a spy—Veronyka feels very much alone. Except for her beloved phoenix, Xephyra, of course, and her new friend, Kade, who has his own reasons for wanting to save Tristan.
Was it always going to come down to this? Sister against sister? Darkness against light?
Veronyka is determined to do whatever it takes to get Tristan back, even if that means revealing her identity to the world and inheriting a throne she's not sure she wants. But when she discovers that Avalkyra has bonded with a strix—a legendary creature of darkness that feeds off the life force of others—Veronyka realizes she has more to deal with than an encroaching war with the empire. Val is willing to destroy everything to get her revenge on a world that rejected her, and if Veronyka wants to bring peace to the empire and Pyra alike, she must face down her sister once and for all.
The world began with Ashfire queens…perhaps they will also be its destruction.
---
The CROWN OF FEATHERS series is available in:
---
The House of the Dead Duology
---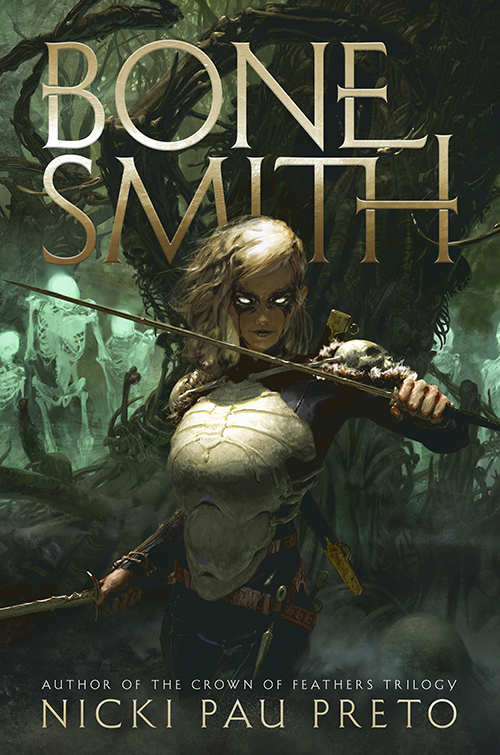 YA Fantasy | Book 1 in the House of the Dead duology.
GIDEON THE NINTH meets the GAME OF THRONES White Walkers in this dark young adult fantasy about a disgraced ghost-fighting warrior who must journey into a haunted wasteland to rescue a kidnapped prince.
• A Sunday Times bestseller in the UK
• An Amazon Editor's Pick for July
• An Indigo Best Book of 2023
---
Ready your blade. Defeat the undead.
In the Dominions, the dead linger, violent and unpredictable, unless a bonesmith severs the ghost from its earthly remains. For bonesmith Wren, becoming a valkyr—a ghost-fighting warrior—is a chance to solidify her place in the noble House of Bone and impress her frequently absent father. But when sabotage causes Wren to fail her qualifying trial, she is banished to the Border Wall, the last line of defense against a wasteland called the Breach where the vicious dead roam unchecked.
Determined to reclaim her family's respect, Wren gets her chance when a House of Gold prince is kidnapped and taken beyond the Wall. To prove she has what it takes to be a valkyr, Wren vows to cross the Breach and rescue the prince. But to do so, she's forced into an uneasy alliance with one of the kidnappers—a fierce ironsmith called Julian from the exiled House of Iron, the very people who caused the Breach in the first place…and the House of Bone's sworn enemy.
As they travel, Wren and Julian spend as much time fighting each other as they do the undead, but when they discover there's more behind the kidnapping than either of them knew, they'll need to work together to combat the real danger: a dark alliance that is brewing between the living and the undead.
---
Praise for BONESMITH
"Pau Preto's kaleidoscopic close-third-person narrative complements the swiftly paced, bombshell-strewn plot, which crescendos to an explosive finish." – Publishers Weekly
"The actual world is unusual and memorable, with layers of horrific decisions compounding to have built a grim place where innocents are threatened by vicious undead and political machinations alike. Wren herself is headstrong and brave, driven first by a desperation to please her cold family but nonetheless obviously suited for the heroic role of valkyr. As the first volume of an intended duology, this will have readers eagerly awaiting the second installment for a chance to dive back into this haunted world and see how Wren finds her own place within it." – BCCB
"Wren's impetuous personality carries readers through the opening chapters to the Breachfort and beyond, where mysteries about Wren's family and birth begin to reveal themselves on an action-packed mission. Game of Thrones fans will see a number of plot points line up between Wren's House of Bone and the Stark family. The romantic tension between Wren and Julian raises the stakes of the adventure, as does Wren's growing friendship with the prince. Pau Preto's character arcs are as carefully plotted as her adventures, exploring privilege, filial piety, and generational trauma." – School Library Journal
"Filled with magic, betrayal, and undead horrors, Bonesmith will keep you turning pages as fast as you can––and sharpen your hunger for the next book. Wren's journey through the dead-infested Breachlands is a thrilling adventure, one you don't want to miss." – Jodi Meadows, New York Times bestselling coauthor of MY LADY JANE and MY PLAIN JANE, author of NIGHTRENDER and THE ORPHAN QUEEN
"I've been dying for a YA novel with unique magic, and Bonesmith delivered it on a ghostly-green platter. With a fascinating world, absolutely delightful characters, and enemies-to-lovers romance—this book is one readers will devour before begging for more." – Tricia Levenseller, New York Times bestselling author of Blade of Secrets
"Gripping and action-packed in its plot, tender yet fierce in its romance, haunting and gritty in its worldbuilding, Bonesmith is a dark fantasy thrillride from start to finish. Wren Graven is the perfectly stubborn, witty, and courageous heroine to navigate a world of ghosts and undead that will remain with readers long after the last page." – Amélie Wen Zhao, author of Song of Silver, Flame like Night and the Blood Heir trilogy
"[An] eerie atmospheric read packed with action and betrayal." – Rebecca Schaeffer, author of the critically acclaimed Market of Monsters series
---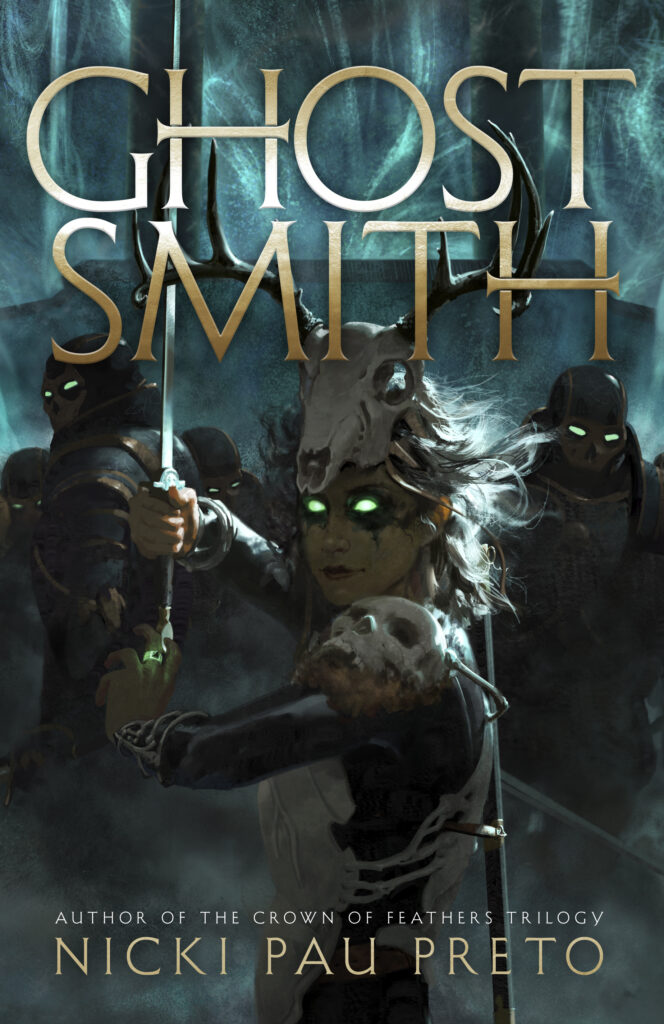 YA Fantasy | Book 2 in the House of the Dead duology.
In this action-packed finale to the HOUSE OF THE DEAD Duology, Wren and her friends put everything they know to the test as they battle the living and the undead to save their world.
• Coming August 13, 2024


---
Wren is still reeling from the revelation that the mother she thought was dead is actually the Corpse Queen, a ghostsmith with the terrifying power to control the undead. It was Wren's own mother who created the iron revenants—an army of near unbeatable undead soldiers. When the iron revenants attack, no one in the Dominions will have the strength to stand in their way.
Now Wren, Leo, and Julian find themselves once more in the Breach, this time on the run from Wren's father, who is determined to secure more power for himself and the House of Bone. The three are desperate to stop the upcoming war, but working together is easier said than done with Julian still furious about Wren double-crossing him. And to make matters worse, Wren is plagued by powerful new abilities that force her to reassess everything she knows about being a bonesmith.
When Wren's long-lost twin brother shows up and vows to help her destroy the well of magic that feeds the iron revenants, she must decide if trusting him is worth potentially playing right into their mother's hands.
After all, the dead might be dangerous, but it's the living who can betray you.
---
The LAST HOPE SCHOOL FOR MAGICAL DELINQUENTS Series
---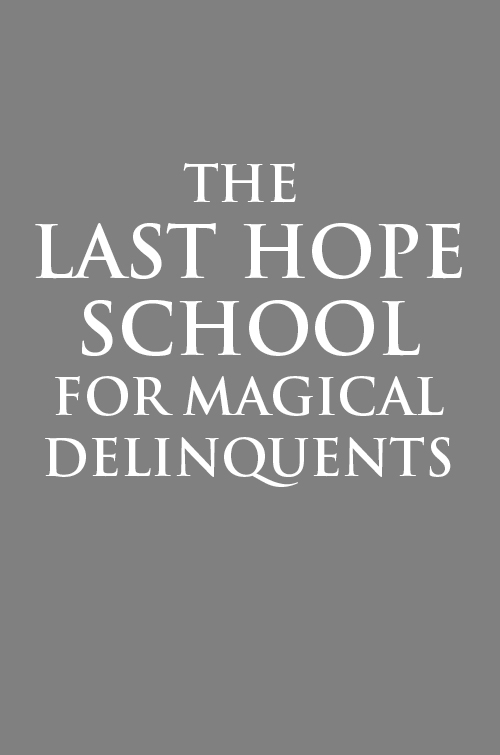 MG Fantasy | Book 1 in The Last Hope School for Magical Delinquents series
THE UMBRELLA ACADEMY meets THE SCHOOL FOR GOOD & EVIL, following a girl with misunderstood powers who has been expelled from nearly every magic school in existence, until she's sent to Last Hope, where she's taught that her quirky—and sometimes catastrophic—magic is to be celebrated, not condemned, and might be just what her school needs to defend itself against unexpected danger.
• Coming Fall 2024
Add to Goodreads.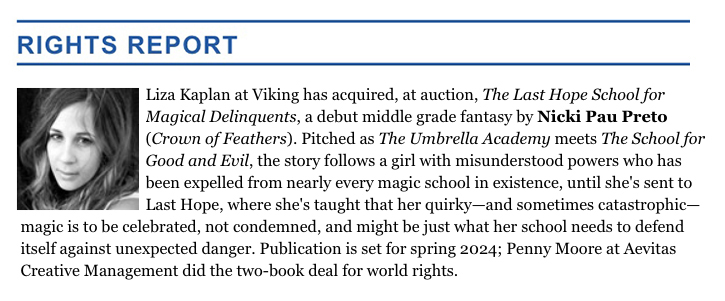 ---